Has the Pac-12 Network Decreased UW Home Football Game Attendance?
The University of Washington Husky football team is taking on Rutgers this Saturday with kickoff at 11 AM PST. This is awfully early to start a game, especially a game that occurs during Labor Day weekend. The game is being aired on the Pac-12 Network which is about to enter its fifth year of operation. This made me wonder, with the presence of the Pac-12 Network, has attendance decreased at home UW football games?
Fortunately, Wikipedia lists game attendance which allows for a quick overview of UW home games stratified by network: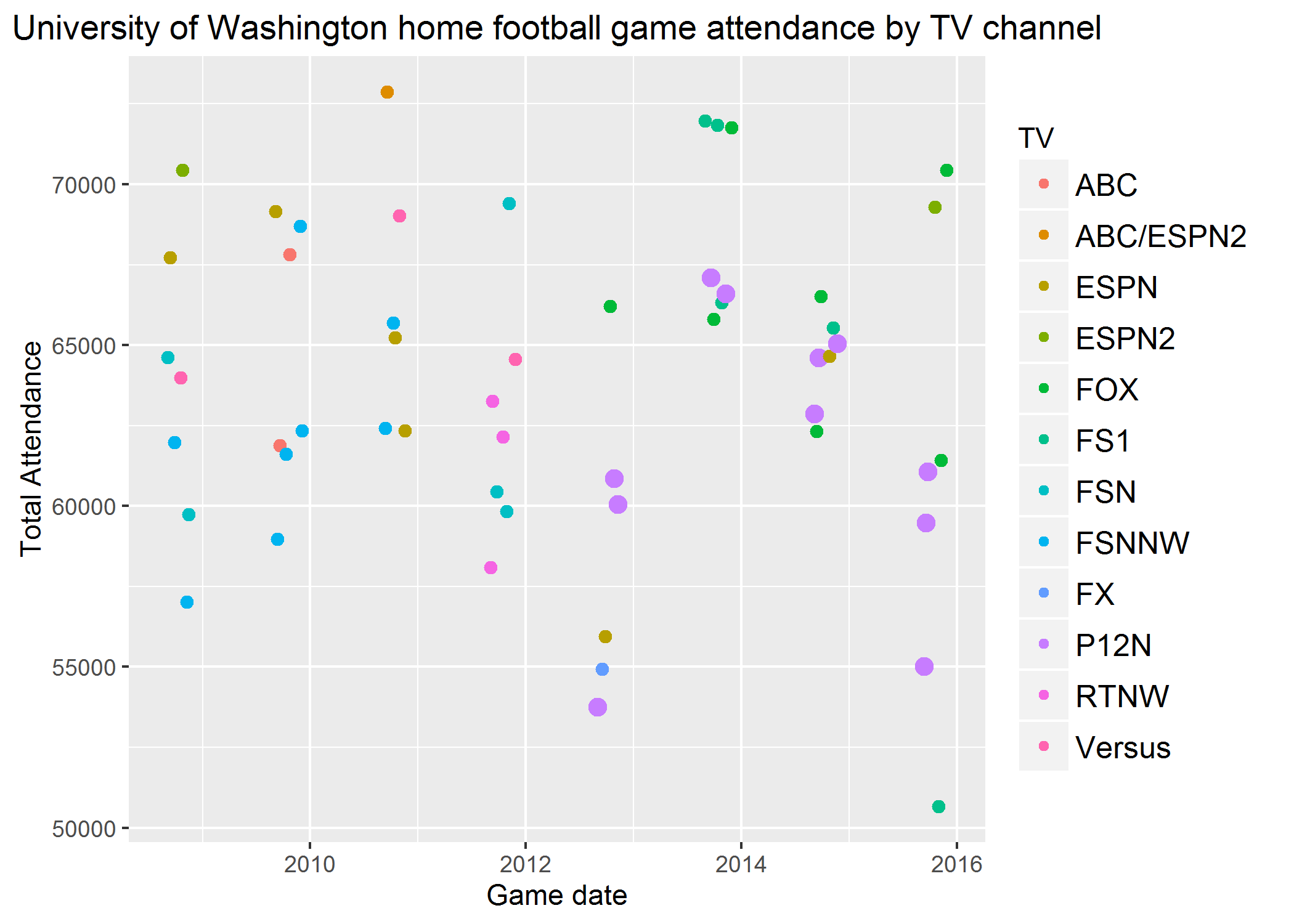 The purple dots are UW home games shown on the Pac-12 network, not entirely convincing but at first glance they don't look too great for the network. I then looked at only home Pac-10/Pac-12 games and looked at attendance by season: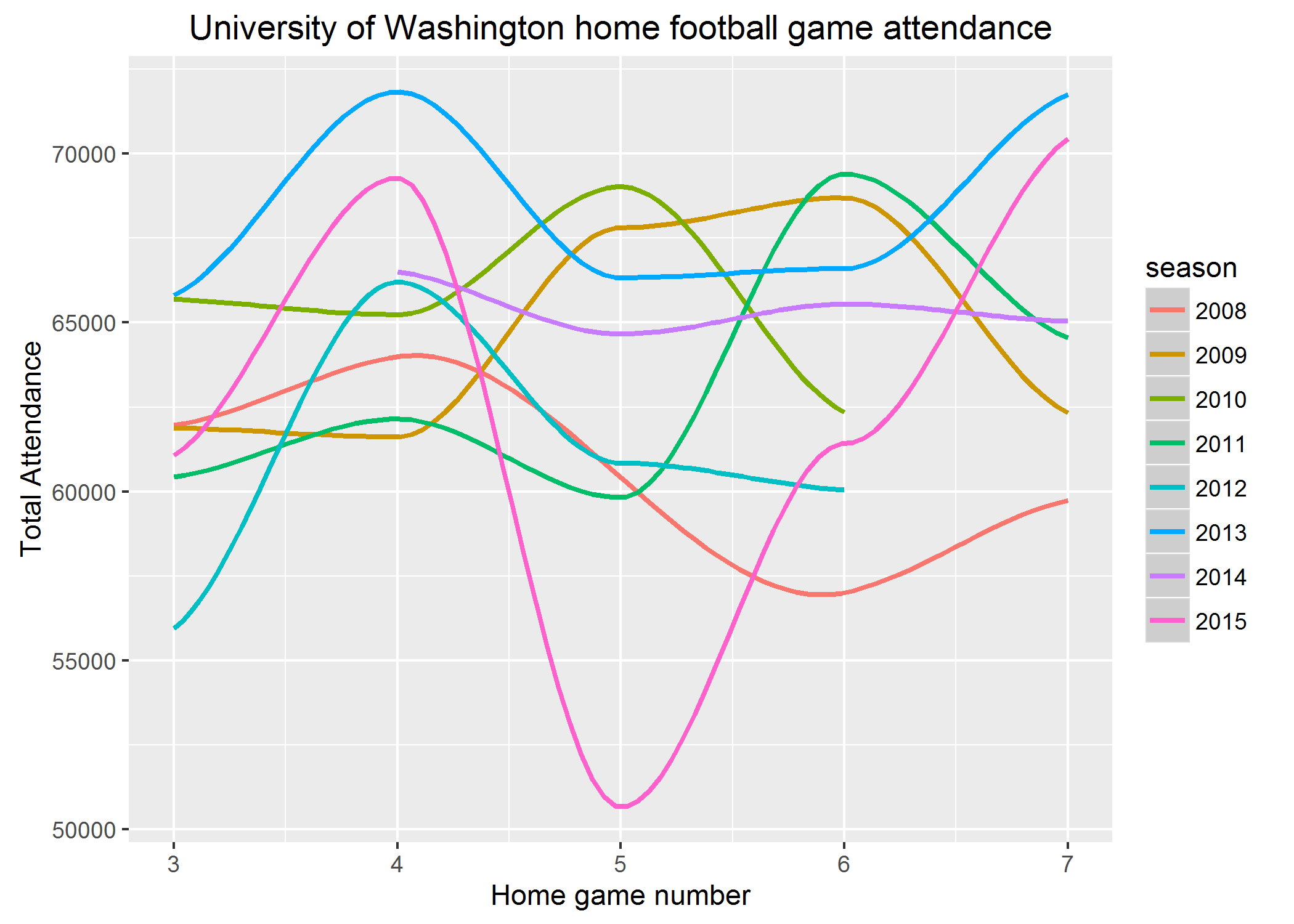 That high point in this figure is UW versus Oregon in 2013 while that particularly low point in 2015 was versus Arizona on Halloween which happened to fall on a Thursday in 2015. Why some executive at FS1 thought it would be a good idea to schedule a game then is beyond me.
In 2012, UW played its home games at CenturyLink Field, while Husky Stadium was renovated. For the 2013 season the UW football team returned to play at a smaller Husky Stadium, did either of these factors impact attendance?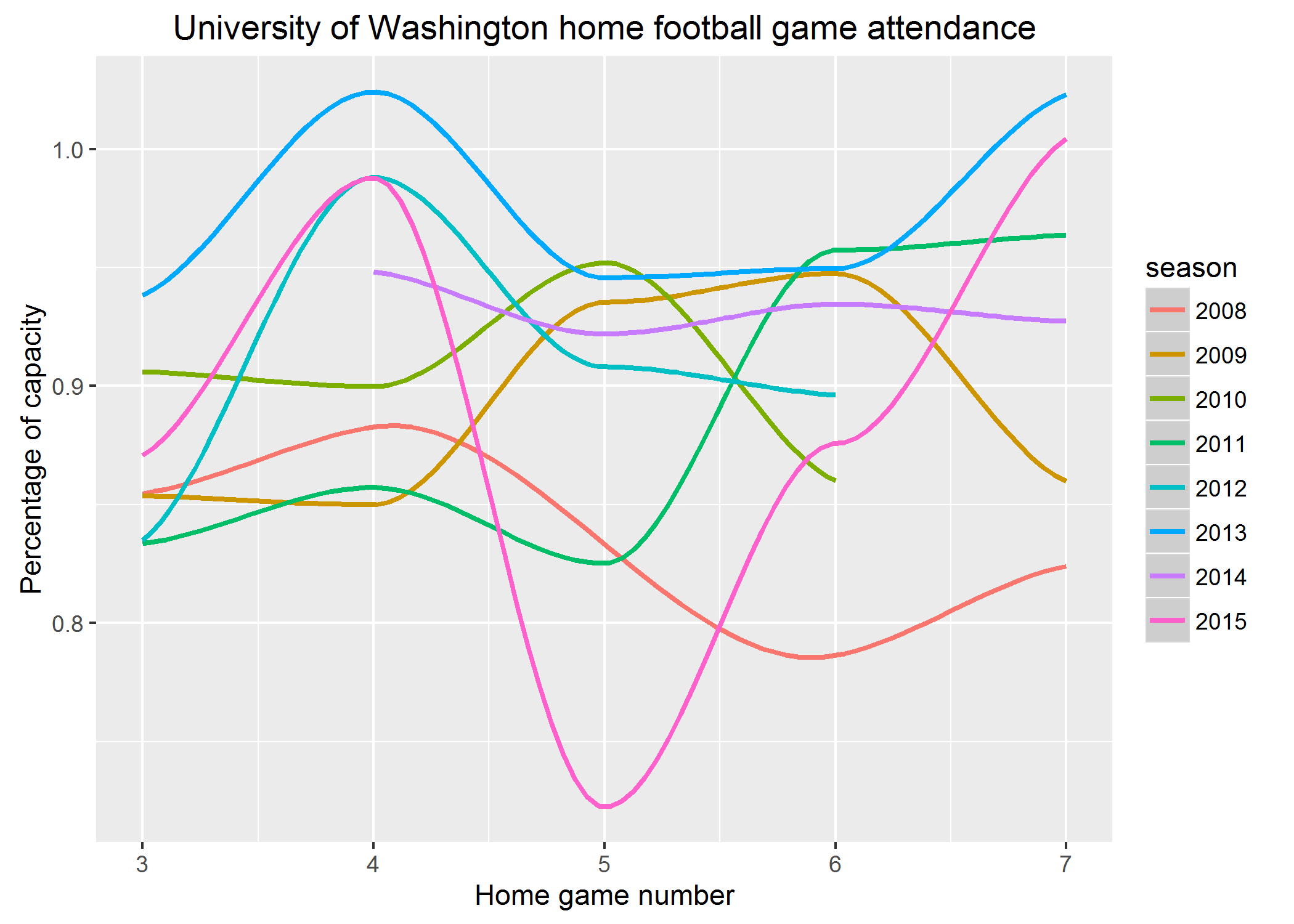 Not really, there is a minimal difference in stadium size which is reflected in this identical-looking figure.
What Pac-12 opponents were the biggest draws on average?
| Opponent | Average Attendance |
| --- | --- |
| Oregon | 69584 |
| Washington State | 68862 |
| Colorado | 64373 |
| USC | 64046 |
| Oregon State | 63777 |
| Stanford | 63360 |
| UCLA | 62544 |
| California | 62541 |
| Arizona | 60756 |
Obviously there are a lot of factors that can't be captured by game attendance alone but with a significant budget deficit largely blamed on reduced attendance, it seems like it might be time for the UW to analyze if the Pac-12 Network has really been worth the investments to date.
Full code for scraping Wikipedia on GitHub