Weekend at Chuck's
Chuck's Hop Shop on 85th is a beer store with 40 beers on tap and hundreds if not thousands of bottled beers for sale. I have always been curious about what types of beers they go though fastest and what are some of the more popular breweries. Fortunately, they post their current tap list on their website which allowed me to look at their data over the course of the weekend.
I scraped their website every 15 minutes from opening Friday, January 29 - closing Sunday, January 30th. Their website also lists cost per pint, cost per growler, and ABV.
For the purposes of this analysis, I made a few assumptions:
A keg is on tap until it is empty.
Each keg only serves pints of beer.
A pint is the only unit served (ie no 8 oz. pours).
With these assumptions in mind, my first question was which beer goes fastest? The below table shows beers that were on tap for five hours or less:
| Brewery | Beer | Minutes on tap |
| --- | --- | --- |
| Bale Breaker | Field 41 Pale | 74.98333 |
| Boneyard | Hop Venom IIPA | 74.98333 |
| Almanac | Elephant Heart de… | 134.98333 |
| Firestone | Wookey Jack CDA | 224.98333 |
| pFriem | Imperial IPA | 240.00833 |
| Sound | Dubbel Entendre | 270.00000 |
| Bale Breaker | Top Cutter IPA | 277.48333 |
| Kulshan | Bastard Kat IPA | 284.98333 |
| Roslyn | Brookside Pale Lager | 284.98333 |
| Breakside | Vienna Coffee OG … | 299.86667 |
| Bale Breaker | High Camp Winter … | 300.00833 |
In a first place tie for a duration of a stunning 1 hour fifteen minutes were Bale Breaker Field 41 Pale and Hop Venom IIPA. There may be another explanation but with respective BeerAdvocate scores of 89 and 97, its easy to see why they are so popular.
Price of a pint vs. ABV
Is there a correlation between the price of a pint of beer and the ABV?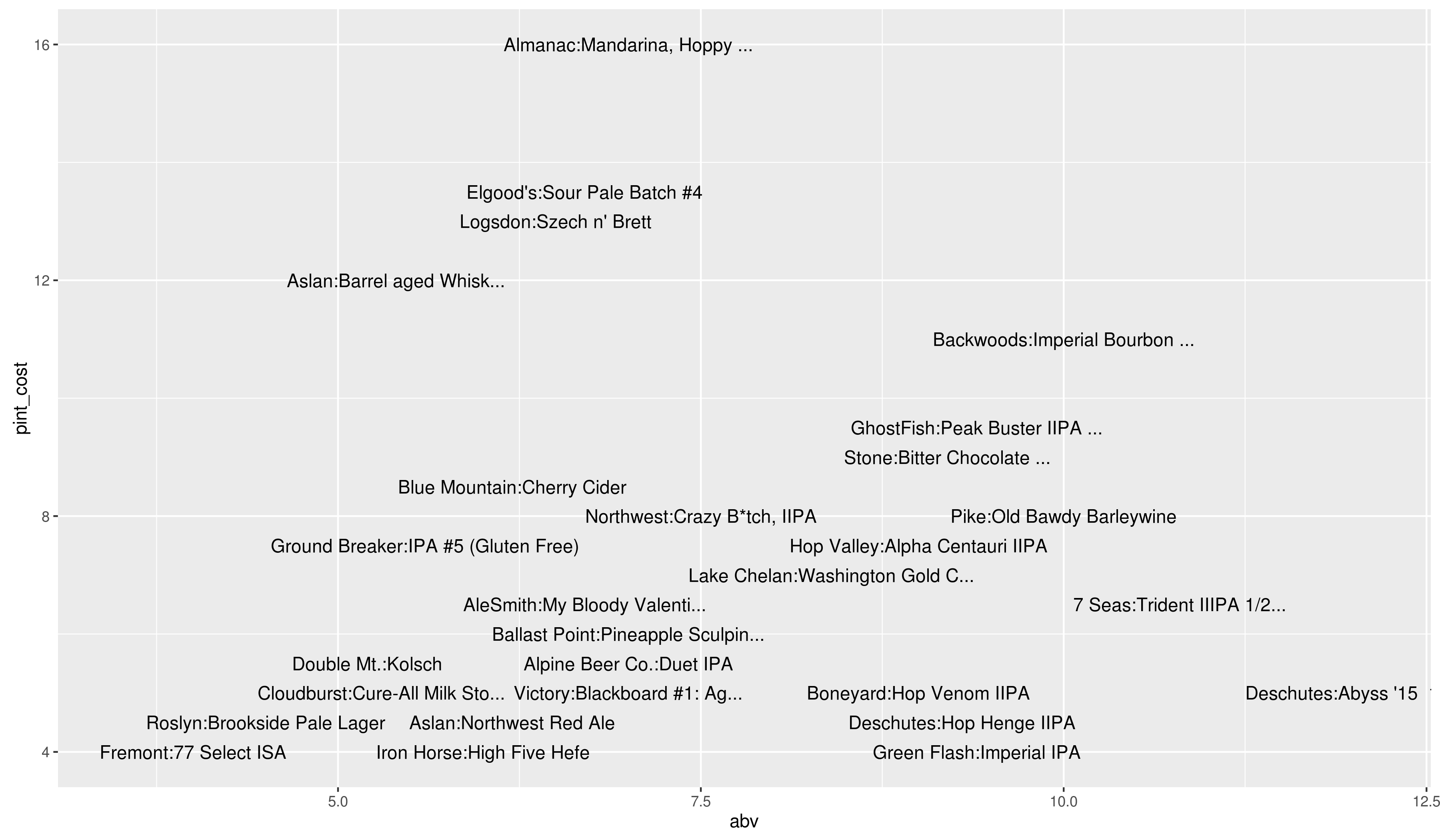 Drinking based on ABV
Do beers with higher ABV get ordered faster?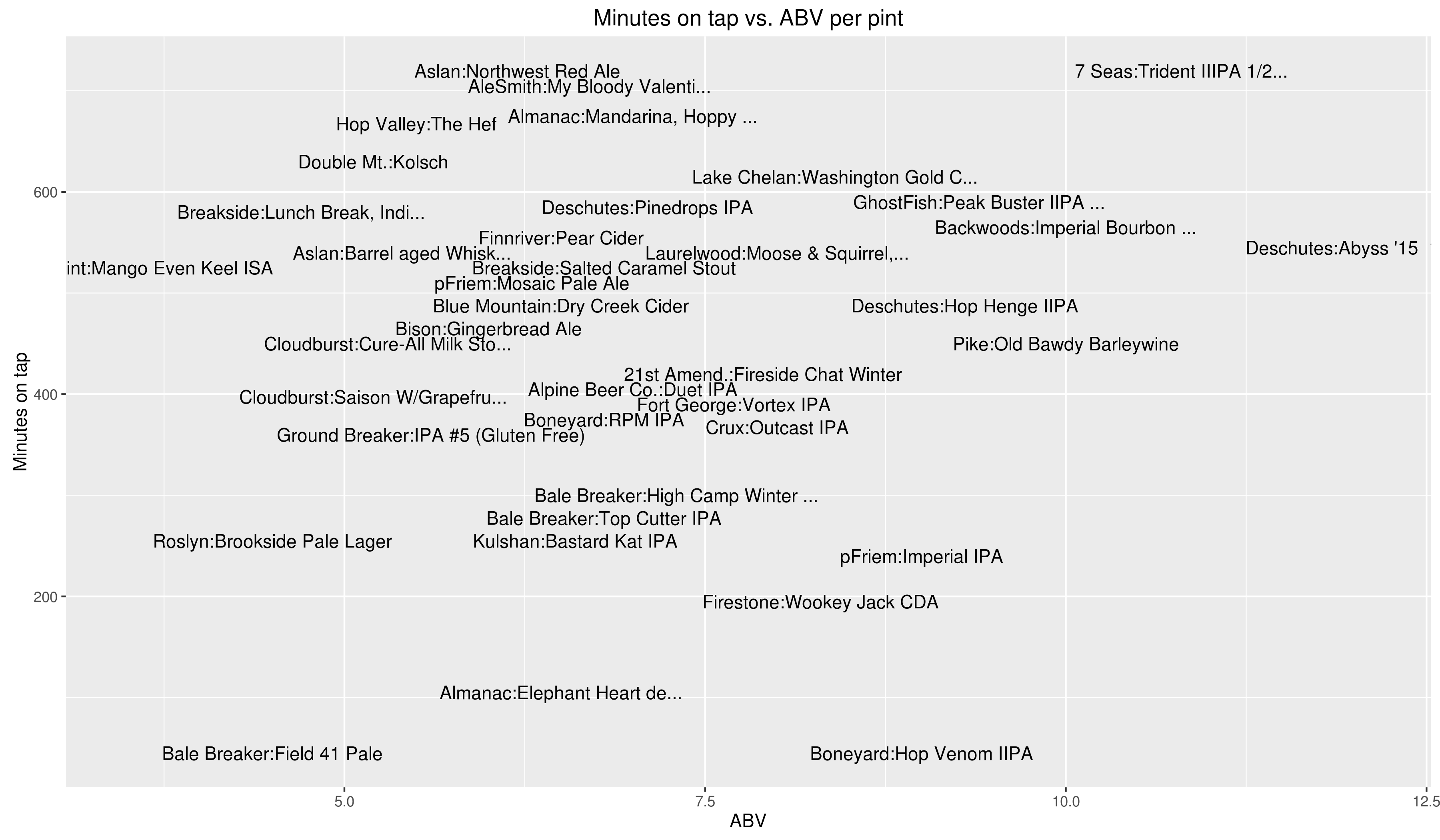 Are beers at Chuck's veblen goods?
Do pricier beer move faster?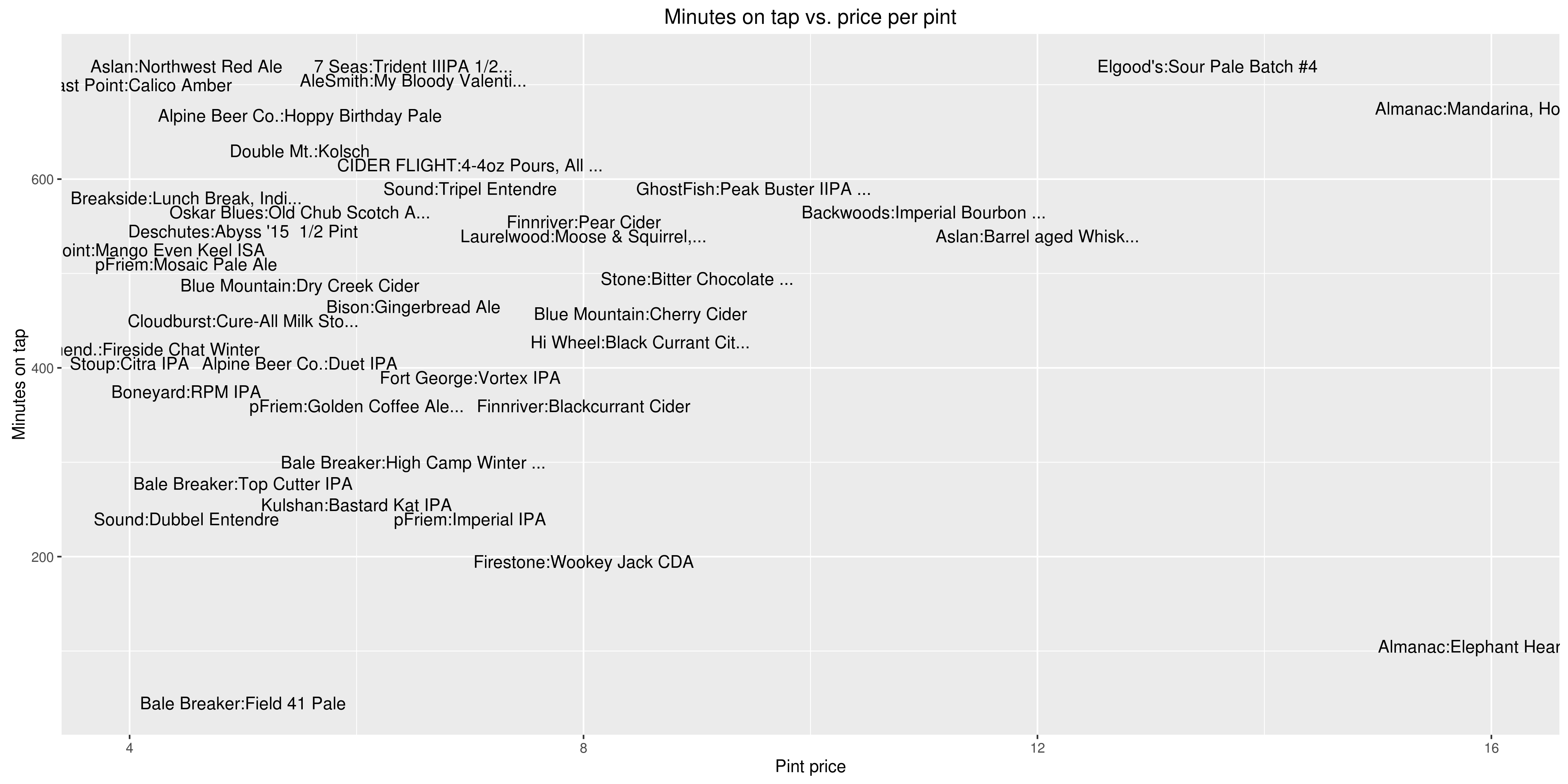 Obviously there are many more types of analysis one could look at with this data. I do think this analysis was sorely lacking in first person research, something I intend to fix in the next analysis. Full code on github.